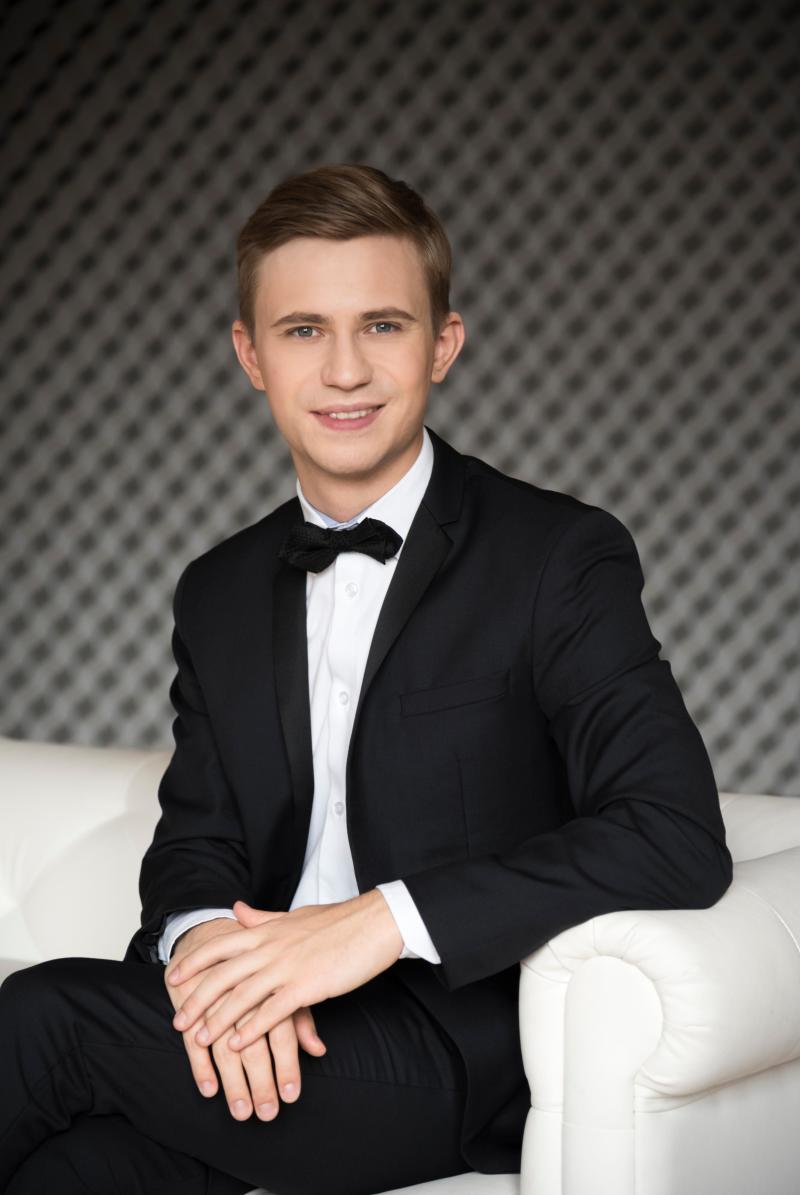 "His art of phrasing, his lyricism, the nuances and the perfect control of dynamics, the transparency and, if necessary, the stupendous virtuosity are outstanding. His playing thus always emanates the aura of the highest artistic goal and finest sensitivity." - Pizzicato
---
As a prizewinner of a number of prestigious competitions, Dmytro Choni has already made a name for himself on the international stage. He is the recipient of the 1st Prize and the Gold Medal of the Paloma O'Shea Santander International Piano Competition (Spain, 2018) as well as a laureate of the Leeds (Great Britain, 2021), Bösendorfer USASU (USA, 2019), Vendome Prize (Switzerland, 2019), Los Angeles (USA, 2018), ZF-Musikpreis (Germany, 2018), Ferruccio Busoni (Italy, 2017), Vladimir Horowitz (Ukraine, 2017) and San Marino (San Marino, 2016) international piano competitions. He was awarded the prestigious "Prix du Piano Bern" (Switzerland, 2019) and "Arturo Benedetti Michelangeli Prize" (Italy, 2017). Notwithstanding these achievements, Dmytro says: "Being successful for me means to continuously grow as a musician and as a person, and not to stop searching for the truth in music. In my opinion, the most important aspect would be to love the music with all your heart."
---
His debut album was released by Naxos in 2020, containing works from the 20th century by Debussy, Ginastera, Ligeti and Prokofiev. The CD received a "Supersonic Award" by Pizzicato magazine and was highly acclaimed by the international press saying that "Dmytro Choni's thoroughbred playing already possesses real greatness and ingenious breath" (Pizzicato); "The young man could be one of the 21st century's most outstanding pianists." (David's Review Corner).
---
Dmytro regularly appears as soloist with renowned orchestras, such as the Royal Liverpool Philharmonic, Phoenix Symphony, RTVE Symphony, Ensemble Esperanza, Community of Madrid, Seongnam Philharmonic, Republic of San Marino Symphony, Oviedo Filarmonía, Ukraine National Symphony, Castilla y León Symphony, Liechtenstein Symphony and Dominican Republic National Symphony. He has worked with conductors Andrew Manze, Yaron Traub, Baldur Brönnimann, Pablo González, Miguel Ángel Gómez Martínez, Nanse Gum, Lucas Macías, Maximino Zumalave, Mark Kadin, Virginia Martínez, Volodymyr Sirenko, Francesco Ommassini, José Antonio Molina and Rubén Gimeno.
---
He appeared at the Kissinger Sommer, Verbier Festival, Dubrovnik Summer Festival, Stars and Rising Stars Munich, MiTo Settembre Musica, Festival Internacional Cervantino and Santander International Festival. He performs in such venues as the Wigmore Hall, Carnegie Hall, Salle Cortot, Minato Mirai Hall, Flagey, Auditorio Nacional de Música and the Teatro Colón, all making a lasting impression on his musical development.
---
Chamber music also forms an important part of Dmytro's musical activities. He has collaborated with the Cuarteto Quiroga, Quartetto di Cremona, Calidore String Quartet and with violinists Rudens Turku, Jack Liebeck, Andrej Bielow and Mari Samuelsen.
---
Dmytro Choni was born in Kyiv, Ukraine in 1993. He was four when he received his first piano lesson from Galina Zaslavets. Later, he went on to study in Kyiv with Nina Naiditch and Prof. Yuri Kot. He is currently studying with Prof. Dr. Milana Chernyavska at the University of Music and Performing Arts in Graz.